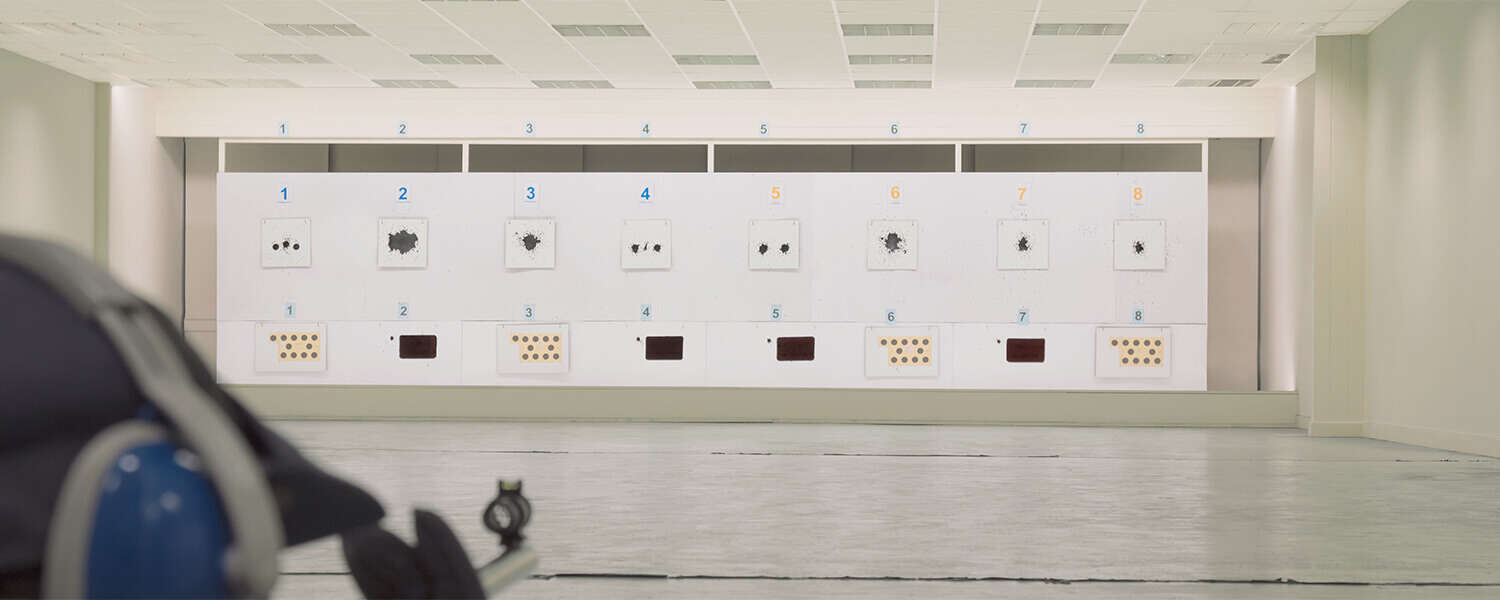 THE RANGE - WELLINGTON ROAD CHICHESTER
Our purpose built, 8 lane indoor range was completed in 2006 and supports a number of indoor shooting disciplines.
The majority of our shoots are at 25 yards, but the range can also be used for 20 yard and 10 metre classes.
NSRA Rules
The Club operates according to NSRA competition rules. The latest full version can be downloaded from the NSRA website here.
RCOs
Whenever small-bore shooting takes place on the club's Wellington Road range a Range Conducting Officer (RCO) has to be present to oversee and supervise the shooting.
All RCOs have received training in accordance with the NSRA Range Conducting Officer Course and are registered with the NSRA as RCOs.
The club has in excess of twenty RCOs who are on a rota and scheduled to be in attendance on Monday, Wednesday and Thursday evenings. It is the responsibility of any shooters who use the range outside of these hours to ensure that an RCO is present.
Instructors
The Club has a number of NSRA qualified small-bore instructors. One or more will be in attendance on Saturday mornings for training to assist probationary members.
Range Specifications
The Club Byelaws limit the specification of firearms that can be used during Chichester RPC Sessions to a maximum of 0.22" subsonic. This is chosen to match the requirements of the NSRA competition rules.
However, the range specification exceeds that limit and firearms with larger calibres than 0.22" LR can be used by other clubs hiring the range by arrangement.
Chichester RPC Range Safety Certificate.PDF
Rifle Types
A variety of different types of rifle can be used at the range, from small-bore to air rifle.
See our basic guide here, or download our more detailed clarification of the NSRA rules:
Rifle Specification - CRPC Clarification of NSRA Rules.pdf
Ammunition
All our rifles use 0.22" LR rimfire ammunition. We stock various types of Eley and RWS, all of which can be purchased at the Club. (Ammunition can only be removed from the range if you have a firearms certificate stating the appropriate conditions.)
Range Hire
The range can be hired by other approved shooting Clubs or Rifle Associations on an hourly or daily basis. CRPC is proud to have hosted the Sussex County SBRA and Worthing and West Sussex SBRA Championship finals in the past.
Please contact info@chichesterrifleclub.co.uk